It's getting to that point where I don't even have enough time to upload my photos, few though they are, because it's just one fest after another. In the past 5 days, the campaign has been to Manor Fest, Kolache Fest, the TX vs OSU game, Peace Fest, a forum on election fraud hosted by the League of Women Voters, and an actual candidate forum in Brenham hosted by the Retired Teacher's Association. Plus a three-hour interview with Robert Scott Bell on Sunday.

Whew.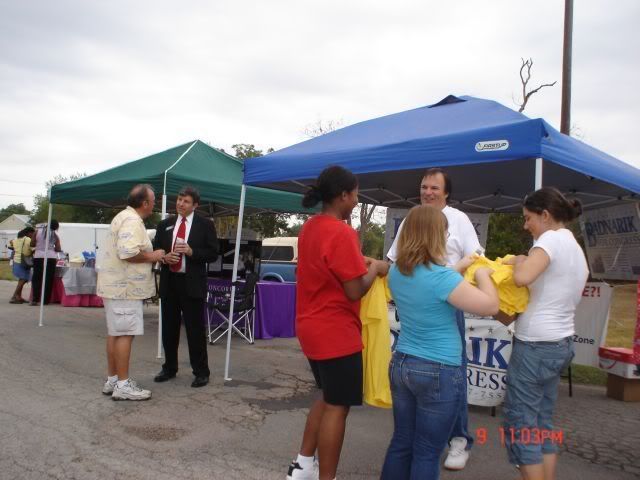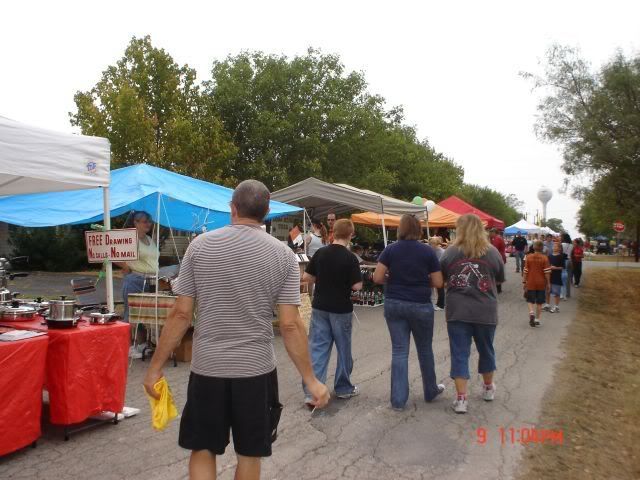 The weather was kinda blah, as you can see, but here in Texas we give thanks for a cool and cloudy day. Particularly when you're an overworked staffer spending yet another full Saturday handing out campaign literature to the folks. Manor is a cute little town, just over a thousand residents, so it was a small crowd. A close-knit one, however, and as the day passed I could see more and more people walking around with our brochure in their hands. At least three people waved off taking a brochure, stating that they'd seen Michael at the local gun show and already planned to vote for him. We're everywhere!

The volunteer helping Michael out is Tom deSabla, of Maryland. He's already given the max amount to our campaign, but since he still wanted to help he flew down to Austin to volunteer for the weekend. Isn't he nice?

Michael and Tom spent the morning in Manor before driving off with Jon to Caldwell, to pass out more brochures at the Kolache Fest (a Czech delight!). I stayed in Manor to man the table, so I have no photos of that event.



Okay, so the Horns lost. You don't have to rub it in. But at least we got some productive use out of the evening by standing next to the ticket counters and passing out voter registration cards. Texas does not have same-day registration, so this is an important job.

The orange crush: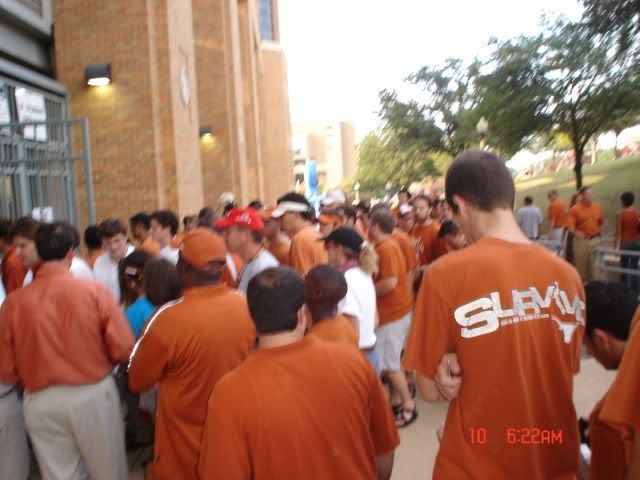 A pretty average shot of how seriously Texans take our football. Please note the satellite dish erected next to the tent.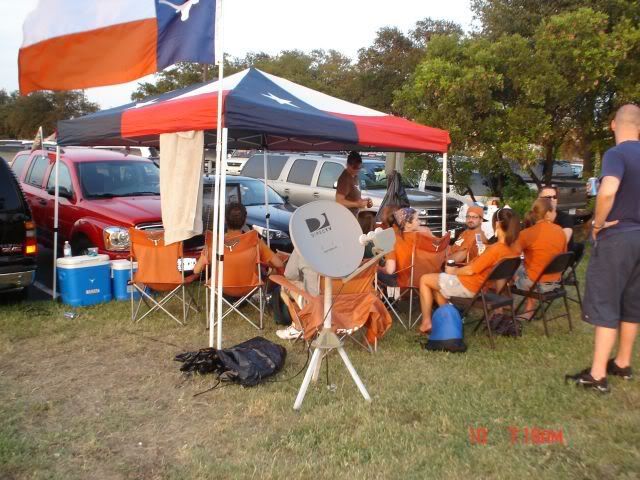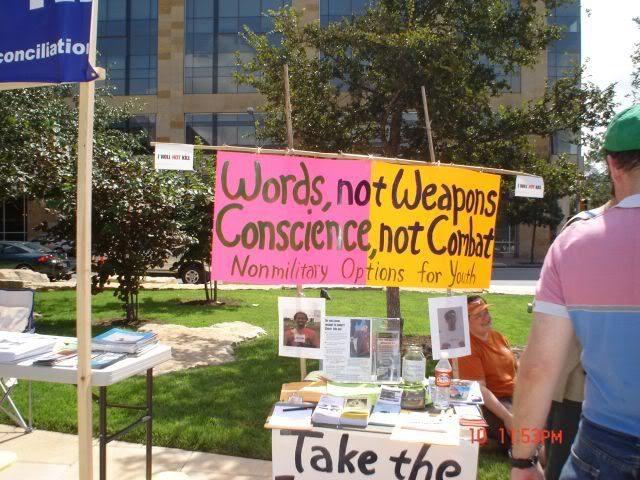 A mostly leftist crowd gathered at the city hall plaza in Austin to chat about how war sucks, among various other things. We were definitely the odd man out, but Rock Howard came too, and I was happy to have a new crowd to pitch libertarianism to. The only flaw was that our cool and cloudy weather had flown away on pigeon's wings, and we were back to baking in the 100+ degrees.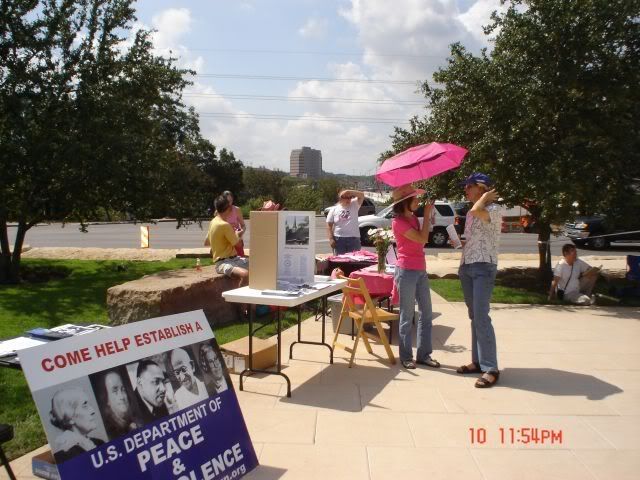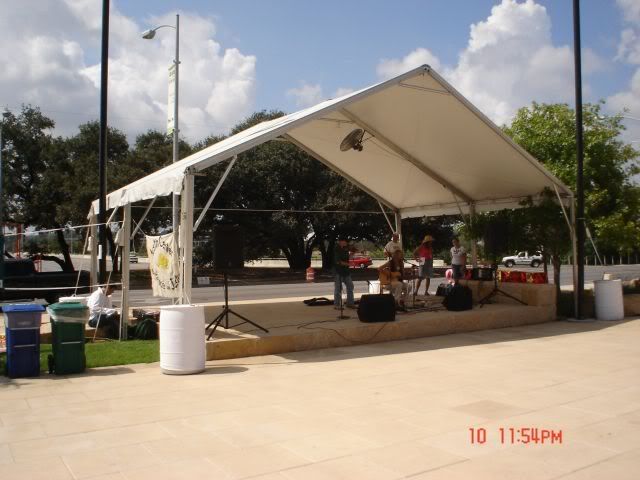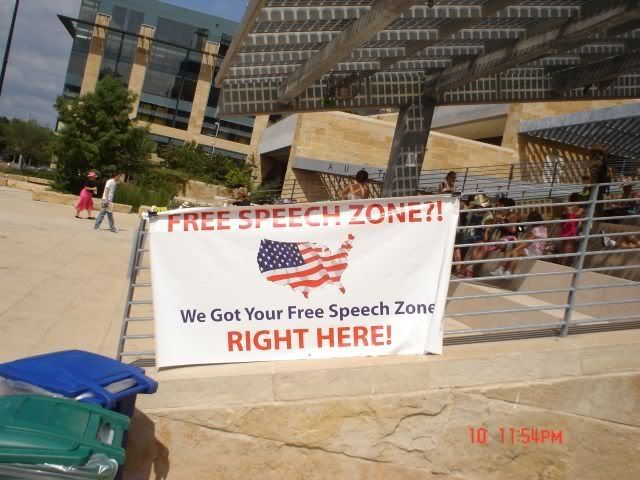 That would be our Free Speech sign, thank you. And if you're wondering where the actual people are, they're hiding under the only available shade on the city hall steps. You can just see them if you squint hard enough.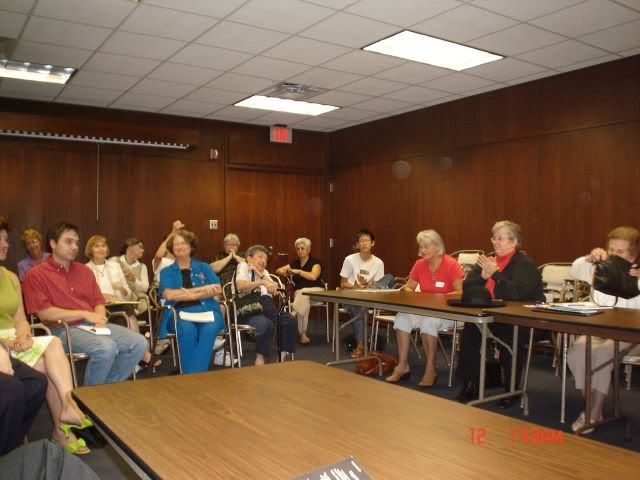 Monday was the forum on electoral fraud. I've already forgotten the panelists' names (there was no program), but they seemed to really know their stuff and we had an interesting two-hour discussion. The most amusing part was watching Michael steal the spotlight, as he's so good at doing, and end up featured in the local paper's coverage. You can see the article here at the Daily Texan.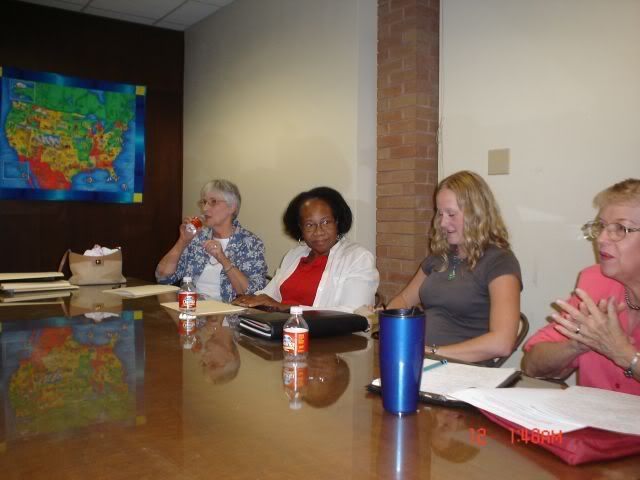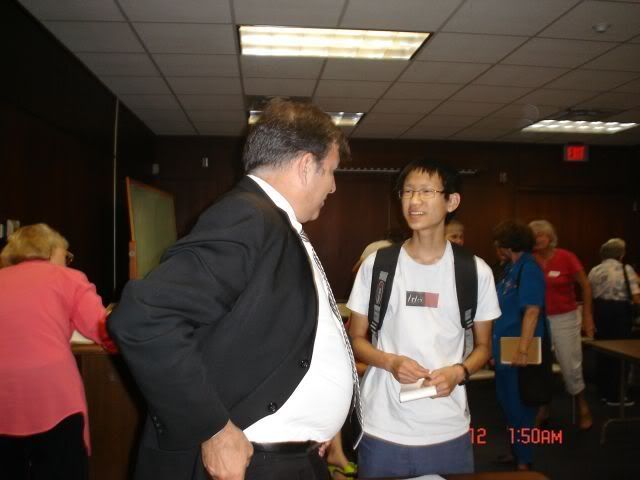 And finally, the Retired Teacher's Association of Brenham hosted us for a Candidate Forum. Unsurprisingly, Michael McCaul (R) declined to attend, which meant it was just Ted Ankrum and Michael.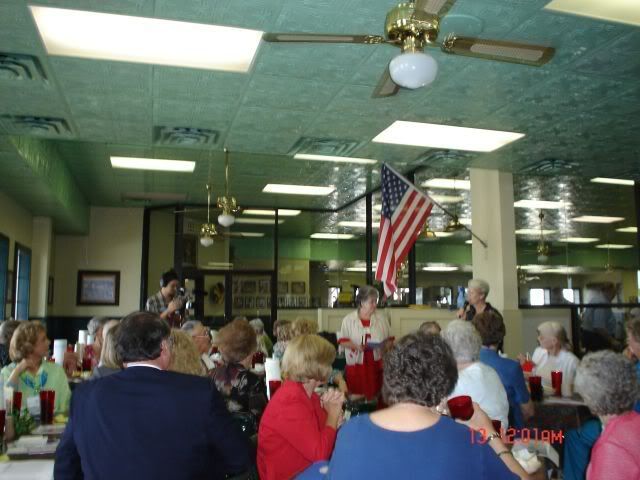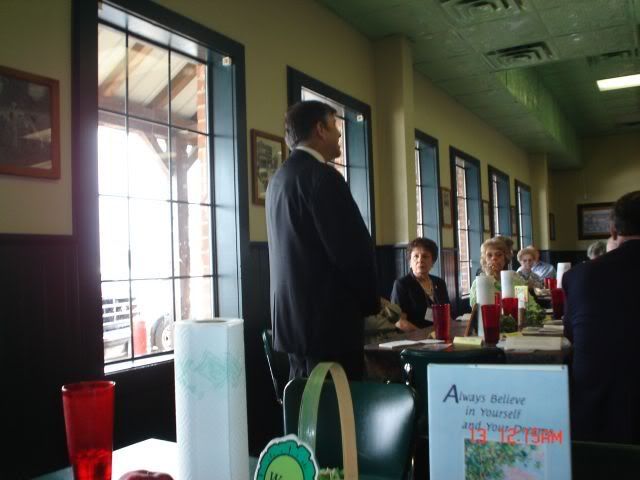 Notice how artfully the teacher's decorated our room in the restaurant to look exactly like our old elementary school classrooms.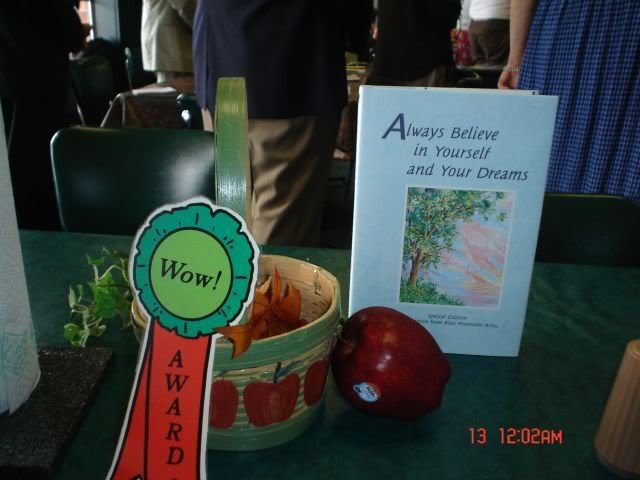 (wilts) Okay, I'm caught up. For now. This doesn't even include the 9/11 event Michael went to Monday night with Jon, as I was elsewhere occupied. Thursday is a trip to the movies to see Alex Jones' Terrorstorm, and on Friday the gang's all off to Houston for a Common Grounds event with the Green Party. But don't take my word for it. You can see everything that's coming up, in minute detail, at our new calendar. New feature of the website - check it out!